We Saved This Utah Client Thousands!
February 16, 2023
---
We Came Up With A $300 Solution For This
Utah Client's $3,000 Gutter Problem
The Time We Refused To Gain From
Another Company's Low Standards
---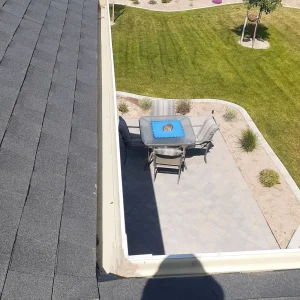 When we arrived at this home along the Wasatch Front to reposition the gutter downspout, we thought we knew what we needed to do. As you can see in the above image, the plan was all laid out for a quick and easy repair.
Well, as with most plans, this one fell apart the second we gained a new perspective. As soon as we got onto the roof, we realized there were deeper issues than a misaligned downspout.
As you can see to the right, the seamless gutters on this home were hung with zero support structures. All that was holding the system up were sheet metal screws going through the fragile backside of the gutter and into the fascia.
Some of these sections were dozens of feet long, with nothing supporting the outer wall of the gutters.
That someone hadn't yet been hurt by the gutters collapsing under winter snow was a minor miracle.
---
We Were Faced With A Choice – Profit vs Proper
Any serious roofing company would have taken one look at these gutters and condemned them as unsafe. They might be able to hold up under heavy rain but not heavy snow.
And if you're wondering how dangerous a loose gutter can be, consider the weight of a gutter full of ice and snow and its velocity as it swings from one end on its way to the ground.
We're not talking about pain here. We're talking about hospitalization, at best.
So, we had no choice but to advise the homeowners that this situation must be fixed.
Most roofing contractors would insist on replacing the gutters with new ones. It's the simplest, most thorough method for assuring properly installed gutters, but it would also hit the homeowners with several thousand dollars in unexpected costs.
The other option was to install brackets that would hold the outer wall of the gutters in place while tying the entire system securely to the fascia. The materials cost would be minimal, with the only real cost being the labor needed to install the brackets.
The homeowners were thrilled to accept such a simple and inexpensive solution, and after completing the relocation of their downspout, we installed dozens of new brackets onto their gutters.
Before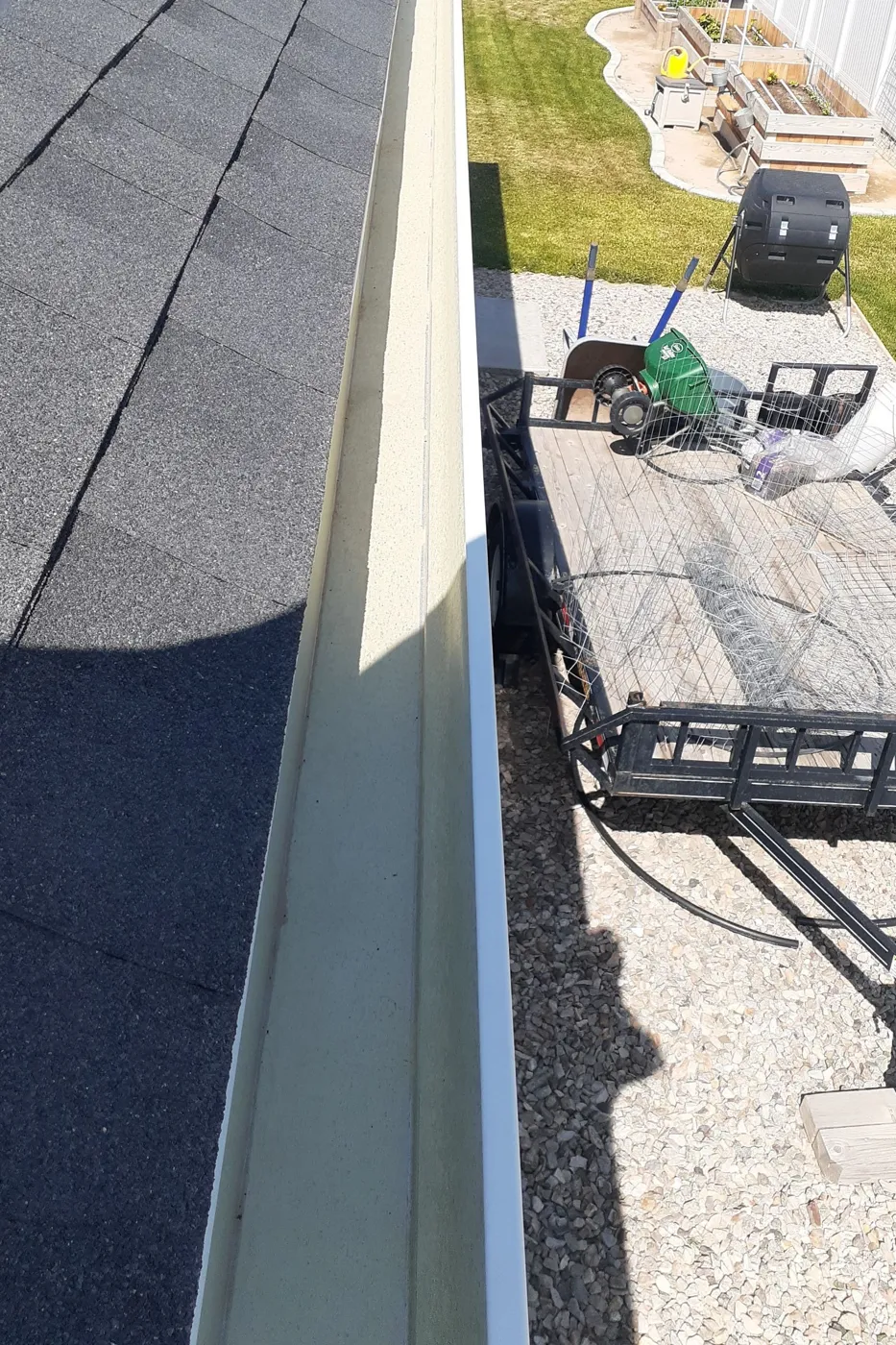 After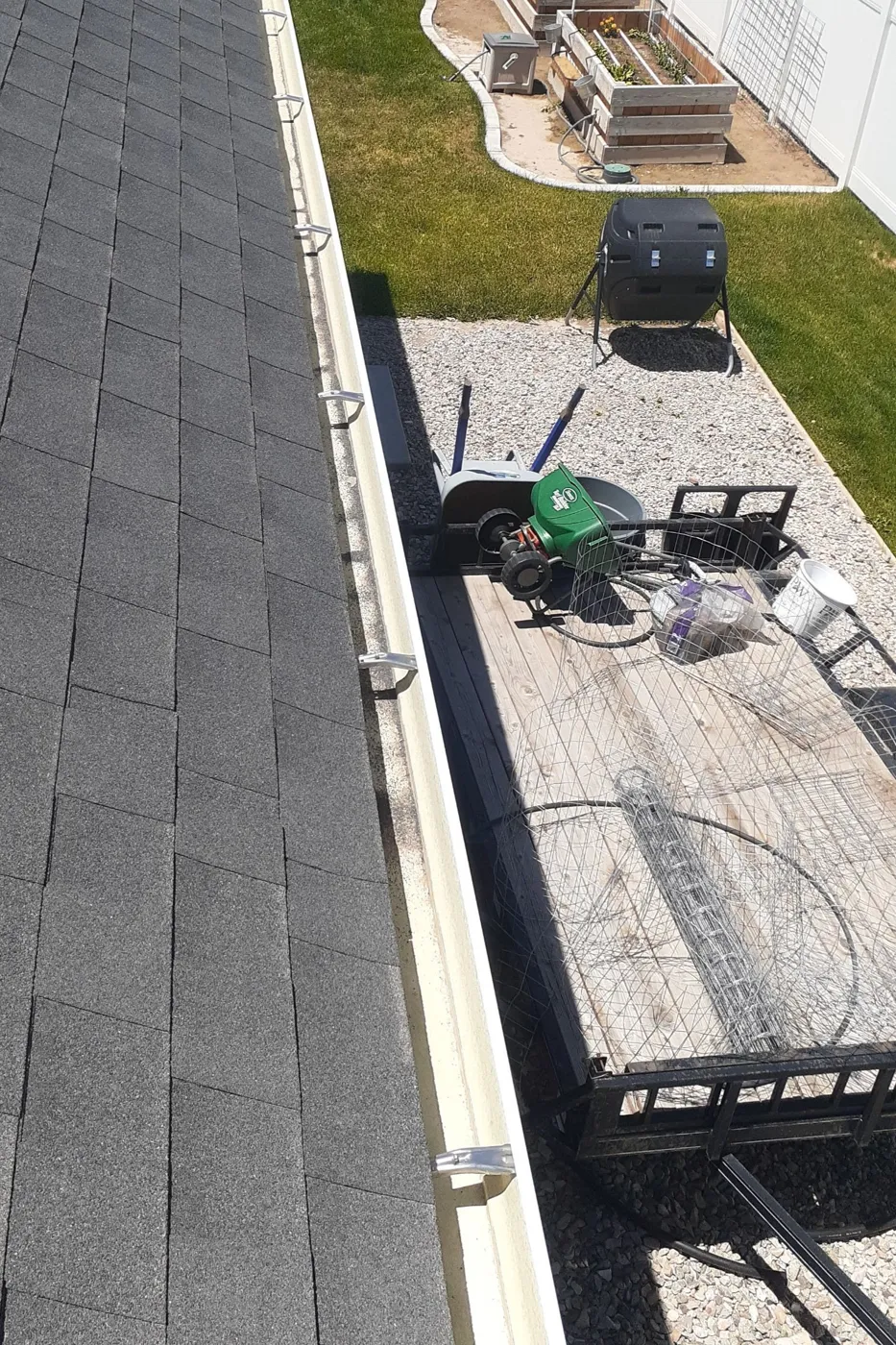 With this simple, cost-effective repair, we removed the danger of loose gutters without breaking our client's bank account. Instead of thousands, it only cost them hundreds.
Did we miss out on potential profit?
Absolutely!
Do we care?
Not even a little bit.
Right over wrong or quality over profit are never difficult decisions for MyRoof associates. They know that integrity drives every decision we make, regardless of the cost.
---
We Celebrate Kindness
Not only did this crew not get in trouble for missing a chance to add some serious money to a small repair call – they were praised for their ingenuity at the next meeting.
Our guys took a potentially backbreaking expense for the homeowners and turned it into a pleasant surprise. Instead of financial hardship, they felt the kindness of strangers.
At MyRoof, that's a win from any angle.
If you are having issues with your roof or gutters and want help from a Utah company that sees you as more than a profit source, contact us at MyRoof for a free estimate.
---
Stop Wondering And Get Answers
If you are worried about the roof on your Wasatch Front home – we're here for you.
Contact us at MyRoof Utah to get answers today!